Description
| Product Name | Swim Buoy with LED Strip |
| --- | --- |
| Model | S40026 |
| Material | 190T PVC-Coated Nylon |
| Dimension | 55cm x 25cm x 20cm (Customizable) |
| Volume | 28L |
| Buoyancy | 18kg |
| Capacity | 9kg |
| Net Weight | 650g |
| MOQ | 500 |
| Dry Bag Compartment | Yes |
| Feature | LED strip, mesh pocket (optional) |
The material can be customized from nylon, PVC, rPET, etc.
Your custom logo, text, and artwork can be printed on the swim buoys or their packages.
The default size is 28 liters. If you want to make customized sizes, please contact us directly.
Available colors include orange, red, pink, yellow, and green. Also available with full-print artwork or camouflage.
The mesh pocket is optional and other functional decorations can also be customized on the swim buoy. The LED strip is also available for other swim buoy models. We also accept manufacturing with our client's customized design.
Want to see a live case of how this product can be customized? This case study may be helpful to you: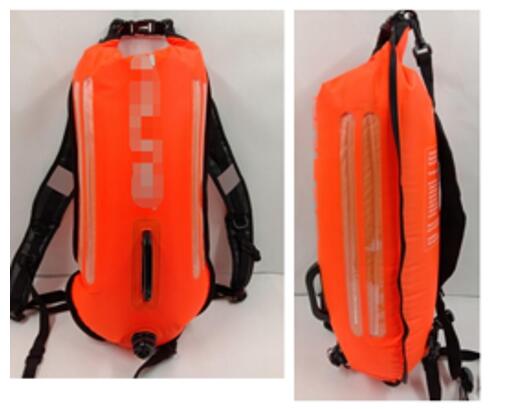 In 2019, we received a new inquiry from one of our long-term clients in France for an order of swim buoys. In their inquiry, we were challenged with having 4 light strips in one swim buoy. In this study, we will briefly introduce how we managed to overcome this challenge in making these swim buoys.