LED Lighted Swim Buoy Customization Case
In late 2019, we received an inquiry from our previous client in France about swim buoys with 4 LED strips. In this study, we will briefly introduce how we managed to overcome the difficulties in the design. 
Introduction
In December 2019, a previous client of ours from France sent an inquiry of a lighted swim buoy they once ordered. In the inquiry, our customer asked for several changes to the customization, including adding extra LED strips to a total of four (4).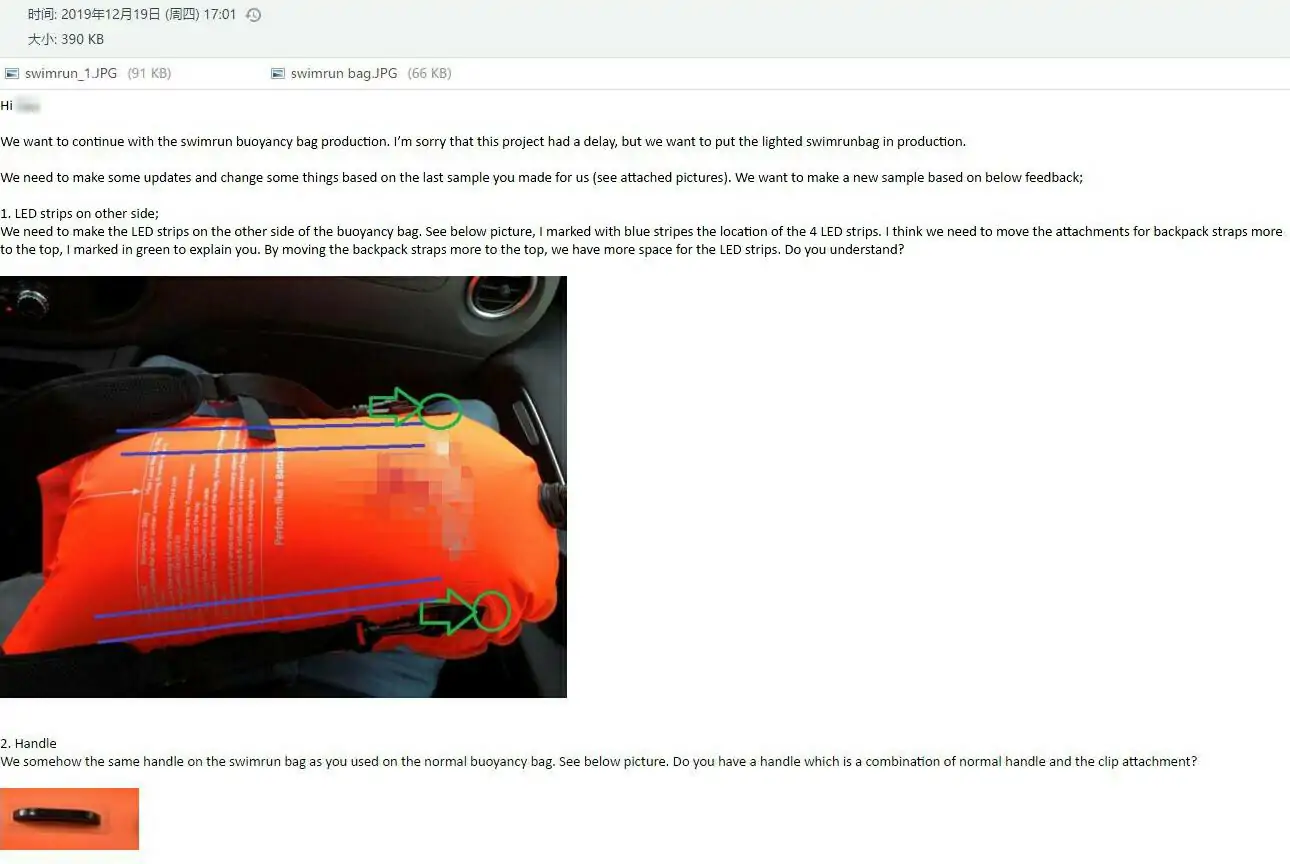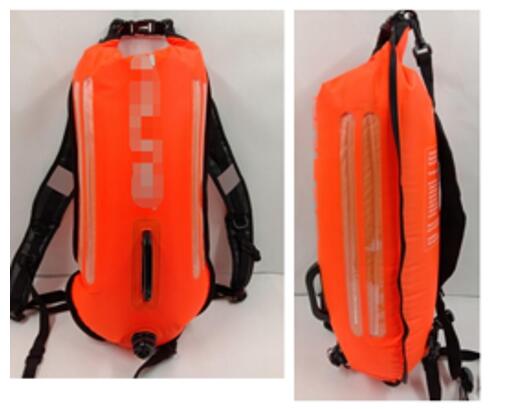 Background
We began cooperation with this client since 2017 when they came to us through Alibaba for swim buoys and waterproof phone pouches. In 2017 and 2018, we manufactured 2 orders of swim buoys with 2 LED strips for them.
The industry is competitive and we keep our clients annoymous.
Challenge
The request is challenging to us, because normally it was impossible to have the weight of 4 LED strips added to the buoy:
If the strips were added to the same side as the air chamber, the buoy would lose its buoyancy; however, should the strips be added to the other side against the air chamber, when swimming the buoy would be unbalanced and flip, making the strips fall into the water and be rendered useless.

Discussion between our client and us. Words marked in red are our client's reply.
In order to fulfill the requirement of our client, our production department made dozens of tests on how to arrange the strips on the buoy, and finally, we found a solution in Jan 2020.
Solution
We first decided to move the air chamber to the center of the swim buoy so that the buoy has a balanced buoyancy and the strips are avoided from falling into water. Along with this change, we made adjustment to the valve so that it penetrates the fabric on the front to compensate for the potential losee of convenience when users inflate the air chamber.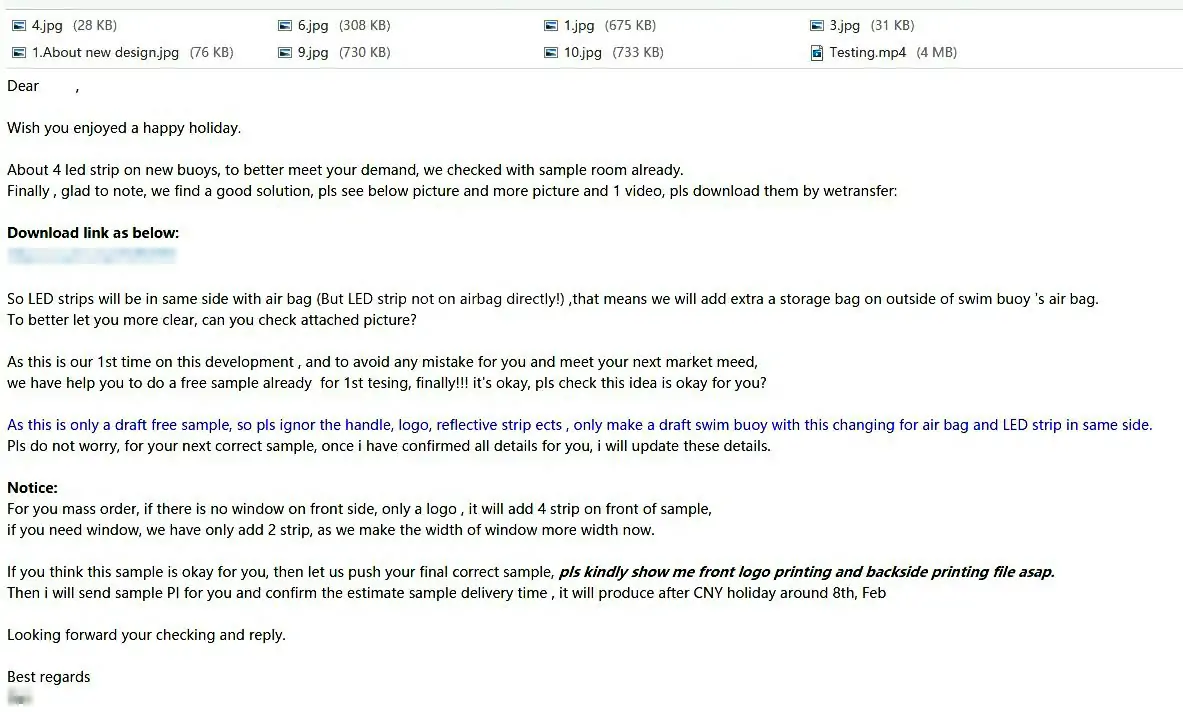 In order to test if our design worked, since it was our first time to make such changes, we made a sample at our own expanses. Luckily, the sample proved our theory true.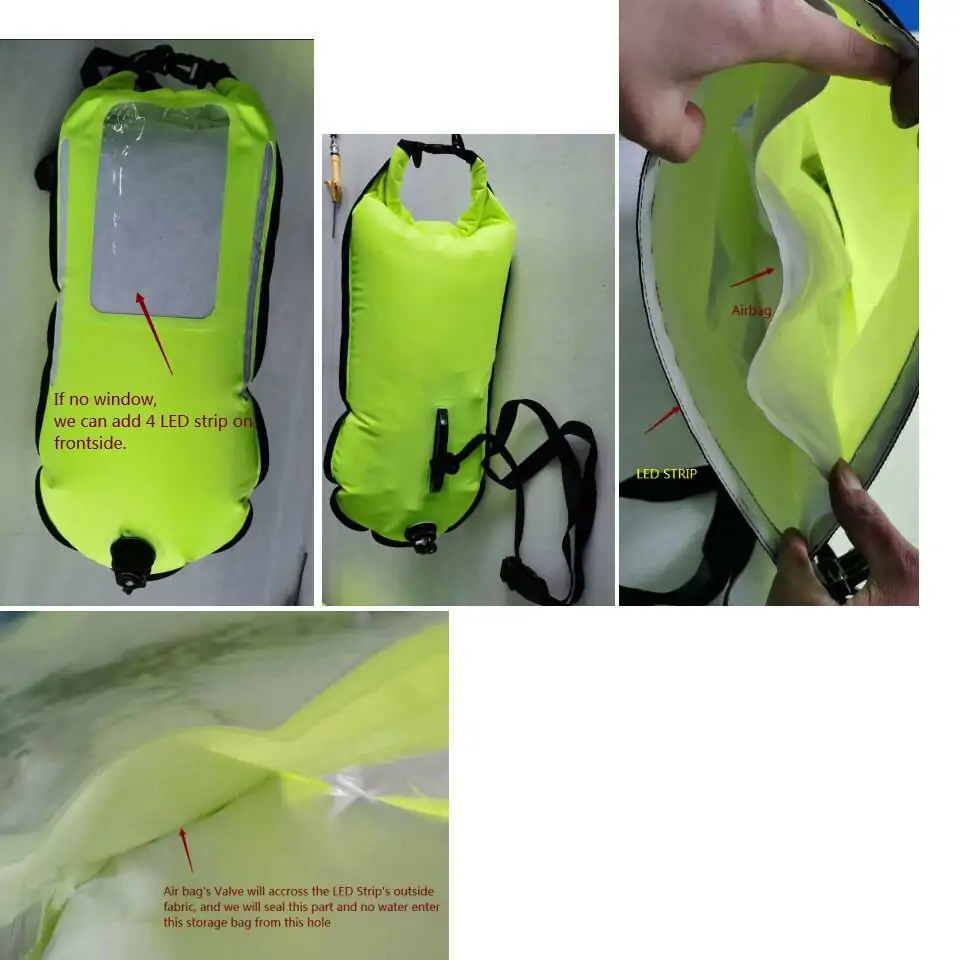 Our client, glad to see the success we made, asked if we can make further changes. We also asked our client if we could remove the phone window to make room for the four strips, to which our client agreed. We then produced a new sample and shipped it to our client, who praised after receiving it and asked as to add a flap to the strip holder in the bulk order.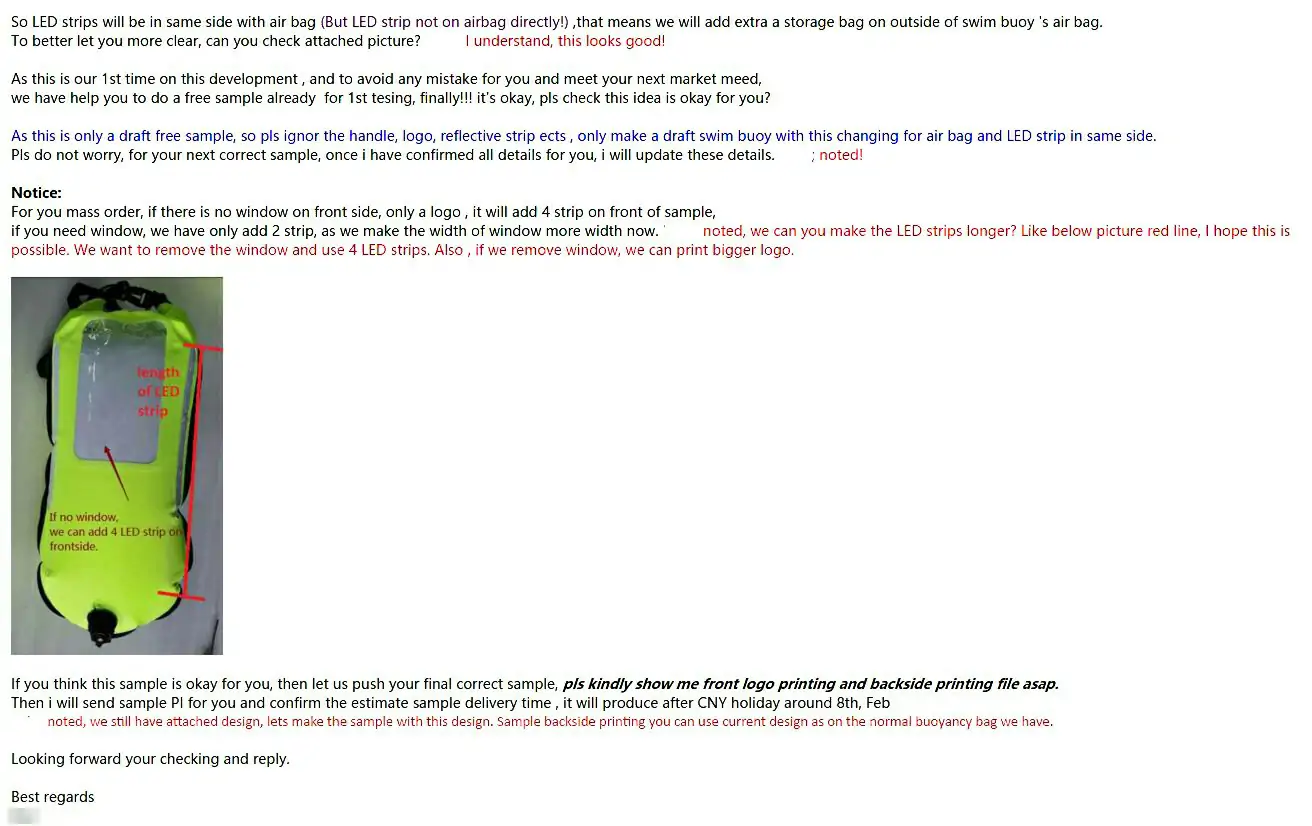 Discussion between our client and us. Words marked in red are from our client.
Result
The whole customization process took almost half a year from receiving the inquiry to the final order. Our client was very satisfied with our service and delighted by the efforts we made, and they decided to order 1,500 pieces of LED swim buoys. The product became popular after it was pushed to European market, and our client and us both profited quite a lot from it.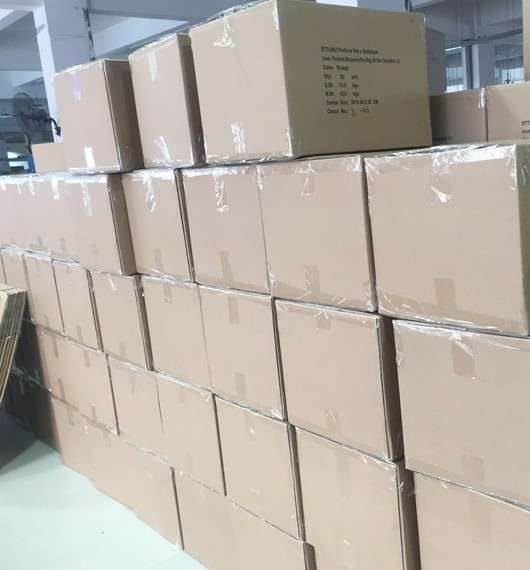 Yes. I want to order more because of your big effort in developing. We have to do it together! Cheers.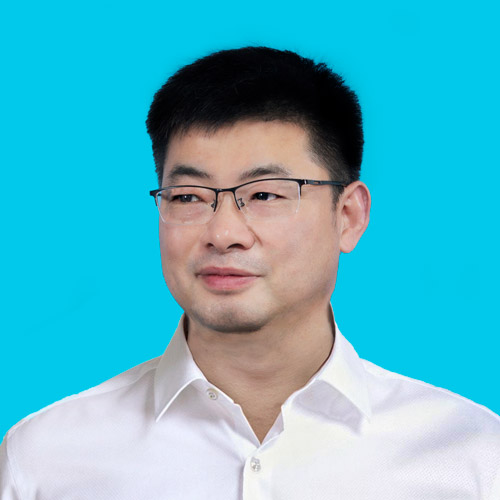 Hey, this is Henry Hu, General Manager of Hangzhou Dawnjoint B&T Co. Ltd and Hangzhou Farview Industry Co. Ltd, and owner of HoneyDryBag.
I have 19 years of experience in manufacturing, trading, and exporting. My company began producing waterproof bags, swim buoys, soft flasks, inflatable sleeping pads, camping tents, stand-up paddle boards, and collapsible rain barrels since 2010. I wish to work together with you and your brand in its growth.
I hope this article is helpful to you. If you like it and hope to receive more valuable posts in the future, please subscribe to our newsletter or send us an inquiry.
Feel free to contact us if you have any questions about this case or if you are interested in cooperating with us.