Whether you are an adventure sports company, an entrepreneur in the retail & wholesale business, a professional buyer, or an outdoor event organizer, you understand the importance of keeping your customers' or participants' belongings dry regardless of the weather condition. Whether your customers are going for hiking, camping, water-side outing, yachting, river-rafting, kayaking, or scuba diving, bringing a reliable waterproof bag is an absolute must.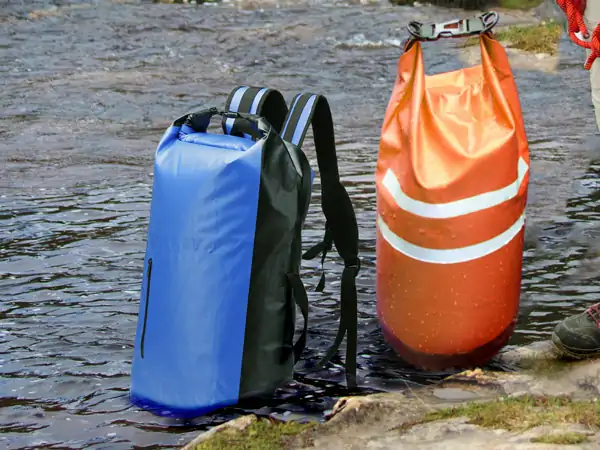 But, the question arises, how do you know if a waterproof bag is truly waterproof? Not all waterproof bags are created equal, however, and it can be difficult and even overwhelming for non-professionals to know if a bag is truly waterproof or simply water-resistant.
In this comprehensive guide, we'll explore all the factors that determine whether a waterproof bag is truly waterproof or not. We'll discuss the types of waterproof bags, the waterproof rating, the materials, the construction, and sample examination before placing bulk orders. By the end, you'll be able to make an informed decision and choose waterproof bags that suits your company's needs.
Types of Waterproof Bags
Before we dive into the technical details, let's first discuss the different types of waterproof bags available in the market. The two most popular types of waterproof bags are dry bags and waterproof backpacks. Other common types include duffel bags, tote bags, and phone pouches.
Dry bags are usually made of flexible plastic or vinyl material, with a watertight seal at the opening. They come in a variety of sizes and shapes. They are great for keeping your belongings dry during water activities like kayaking, canoeing, or surfing.
On the other hand, waterproof backpacks are designed for more intense outdoor activities, like hiking or camping. They have a more rigid construction with welded seams and a roll-top closure system. They are built to withstand heavy rain, snow, or even submersion in water.
Waterproof duffel bags are large dry bags that come in the shape of duffle bags. These bags are designed to provide a large amount of space for all the belongings while ensuring they remain dry in wet conditions. They come with either roll-top closure or waterproof zipper closure, as well as welded seams.
Waterproof tote bags are versatile and stylish bags that feature waterproofing, primarily used for everyday uses like commuting or day trips. They are typically equipped with a waterproof coating to make them stand out from regular tote bags.
Waterproof phone pouches are small dry bags to keeps phones safe and dry in wet conditions. These pouches are perfect for water-related activities like swimming or kayaking where water damage can be a risk for phones and electronic devices. They come with touch screen compatibility so the phone can be used without removing the bag first.
And finally, there are special dry bags for swimming that are also used as swim buoys. These bags are made of nylon or PVC, with air chambers to make them float on the water and conspicuous colors to make the swimmers visible to oncoming traffic.
Factors that Affect Waterproofness
Waterproof Rating
Now, let's talk about the waterproof rating, which is an essential factor in determining whether a waterproof bag is truly waterproof.
The IPX rating is one of the best known rating system that sets the standards for how well a waterproof bag can resist both water and dust particles. The two numbers found in IPX ratings indicate the level of protection provided against water and dust. A rating of IPX6 indicates that the bag can withstand high pressure water streams from all directions, while a rating of IPX7 or IPX8 indicates that the bag can withstand immersion in water up to or deeper than one meter for approximately 30 minutes. Interestingly, the IPX6 rating is separate from IPX7 or IPX8, as submersible dry bags do not have to be stream-proof.
Another waterproof rating is the millimeter rating and refers to the water pressure that the fabric used to produce the dry bags can withstand before it starts leaking. For instance, a fabric with a waterproof rating of 5000mm can withstand a water pressure of up to 5000mm before it starts leaking. This is suitable for heavy rain or water activities.
Material and Coating
The type of material used in a waterproof bag plays a crucial role in determining its effectiveness. The most common materials used in waterproof bags are nylon, tarpaulin, PVC, and TPU.
Nylon is a highly durable and lightweight material that offers excellent resistance to abrasion and tearing. It is often coated with waterproof and rip-resistant coatings to enhance its waterproof capabilities.
Tarpaulin is another popular material for waterproof bags. It is generally made from heavy-duty PVC or TPU coated polyester and is highly resistant to abrasion, tearing and UV light, making it ideal for outdoor use.
PVC (polyvinyl chloride) is a synthetic plastic that is known for its excellent waterproof properties. It is often used in the construction of dry bags and waterproof backpacks, either as the main material or the coating material, primarily due to its high durability and water-resistant capabilities.
TPU (thermoplastic polyurethane) is another popular coating material for waterproof bags due to its high flexibility and durability. It provides excellent waterproofing properties and can withstand extreme temperatures, as well as being resistant to wear and tear. Along with PVC, TPU coating can be applied to a wide range of materials like nylon, tarpaulin, etc.
When choosing a waterproof bag manufacturer, it's essential to consider their proficiency in specific materials. Some manufacturers specialize in one material but may not be proficient in others, so it's important to choose wisely. A thorough review of a manufacturer's portfolio will give you an idea of their expertise and experience in producing high-quality waterproof bags.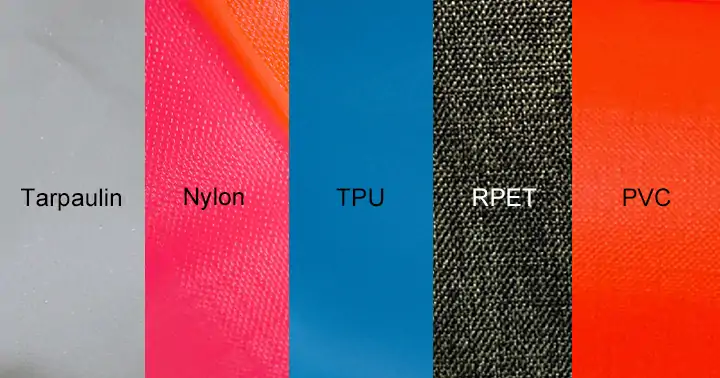 Construction
The construction of a waterproof bag is another key factor that determines its waterproof capabilities. Welded seams, roll-top closures, and waterproof zippers are some of the essential features to look for in a waterproof bag.
Welded seams ensure that there are no holes or gaps in the bag where water can seep in. They are created by bonding the bag's material using heat and pressure instead of stitching (which create holes that water seeps through).
Roll-top closures create an airtight and watertight seal that prevents water from entering the bag. They work by folding and rolling the bag's opening several times, then fastening it with a buckle to create an impermeable barrier against water and moisture.
Waterproof zippers prevent water from seeping in through the bag's opening and provide an additional layer of protection. However, one should be aware of the difference between waterproof zippers and regular zippers. Waterproof zippers have a coating that covers the teeth of the zipper to create a hermetically sealed barrier against water, resulting in a substantial feel to them, while regular zippers have a more matte finish and some may have coatings to make them water resistant.
Test Samples before Your Bulk Order
Ultimately, the best way to know if a waterproof bag is genuinely waterproof is to test it in real-world conditions, especially when the bag comes from a new supplier you have not previously cooperated.
For submersible waterproof bags, the easiest way to test a waterproof bag sample is to place some paper towels or other valuable objects inside the bag and submerge it in water. After a few minutes, remove the bag and check if the items inside are still dry. For waterproof bags that are not submersible, use a hose to simulate heavy rain or splashing water to test the bag's waterproofness. Spray water onto the bag from different angles and observe if any liquid penetrates the bag. If you want to test if a waterproof bag would leak from the inside, you can add a few liters of water into the bag and put some paper towels under the bag. After a few hours, check if the towels are still dry.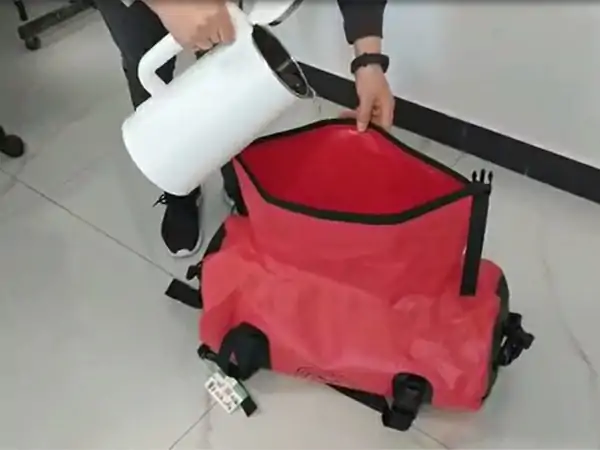 Testing a sample before your bulk order is necessary whenever you are dealing with new or old suppliers, as there may be subtle issues unnoticed both by you and your supplier. Ask your manufacturer to deliver a sample to you, even if that means you have to pay more shipping fees.
Conclusion
Sourcing high-quality waterproof bags is critical to ensure protection for your participants' and customers' valuable belongings when organizing outdoor activities, running online stores, or promoting your brand. Consider factors such as the waterproof rating, materials, seams, closure mechanisms, and do waterproof tests on samples before ordering. By following these guidelines, you can find a reliable waterproof bag manufacturer or supplier that will keep your customers' belongings dry and protected no matter what the weather conditions, and keep your brand continuing to grow.
If you are looking for a manufacturer for your bulk, customized waterproof bag order, consider HoneyDryBag. As an OEM and ODM contract manufacturer of waterproof bags, we offer an one-stop service from design to delivery. Contact us now to make an inquiry and give us a chance to work with you in growing your brand.