Inflatable Sleeping Mat Customization Case
In April 2020, we received an inquiry from a German brand in camping and outdoor equipment about our inflatable sleeping mats. In this study, we will briefly introduce our cooperation in the design and the production.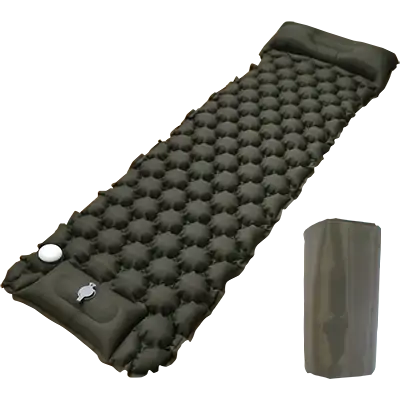 Introduction
In Apri 2020, we received an inquiry from a client from Germany who wanted to build up a company and become a major brand in camping and outdoor equipment in German market. In the inquiry about inflatable sleeping mats, they wanted to add buckles and buttons to the product which must also meet REACH standard.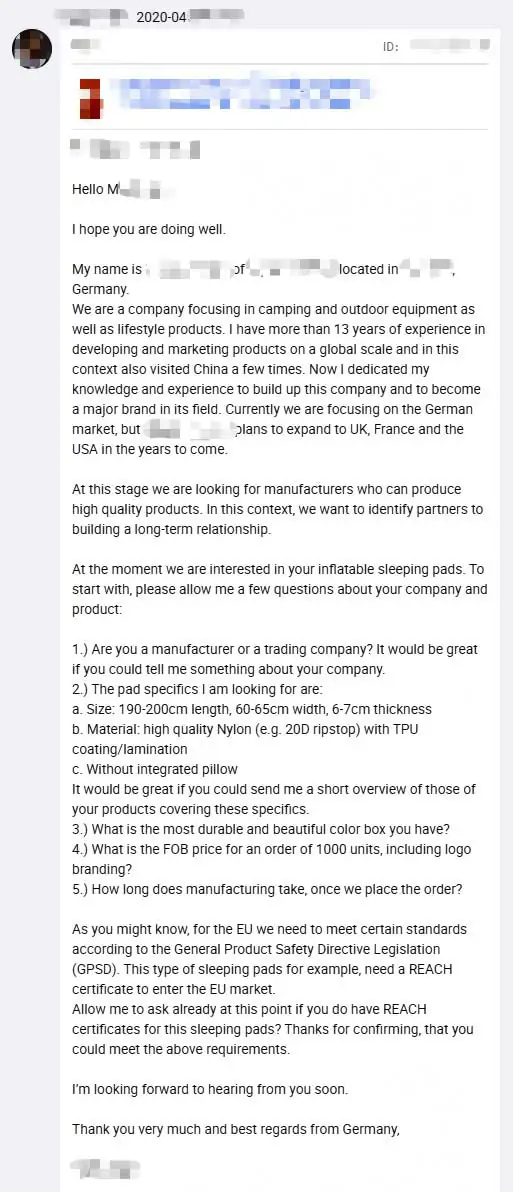 First Challenge & Solution
Our client wanted to have buttons on the sides of the sleeping mats and their storage bags to connect them. However, our original model was too narrow on the sides to add buttons, and so we recommended a new model of the same size that was not on display at that time. We produced samples of both models and sent them to our client for comparison.
During sample production, we noticed that it was uneasy to add buckles to the location in our client's original design. Therefore, we asked our client if there could be an offset of the buckles, and showed them the differences in details.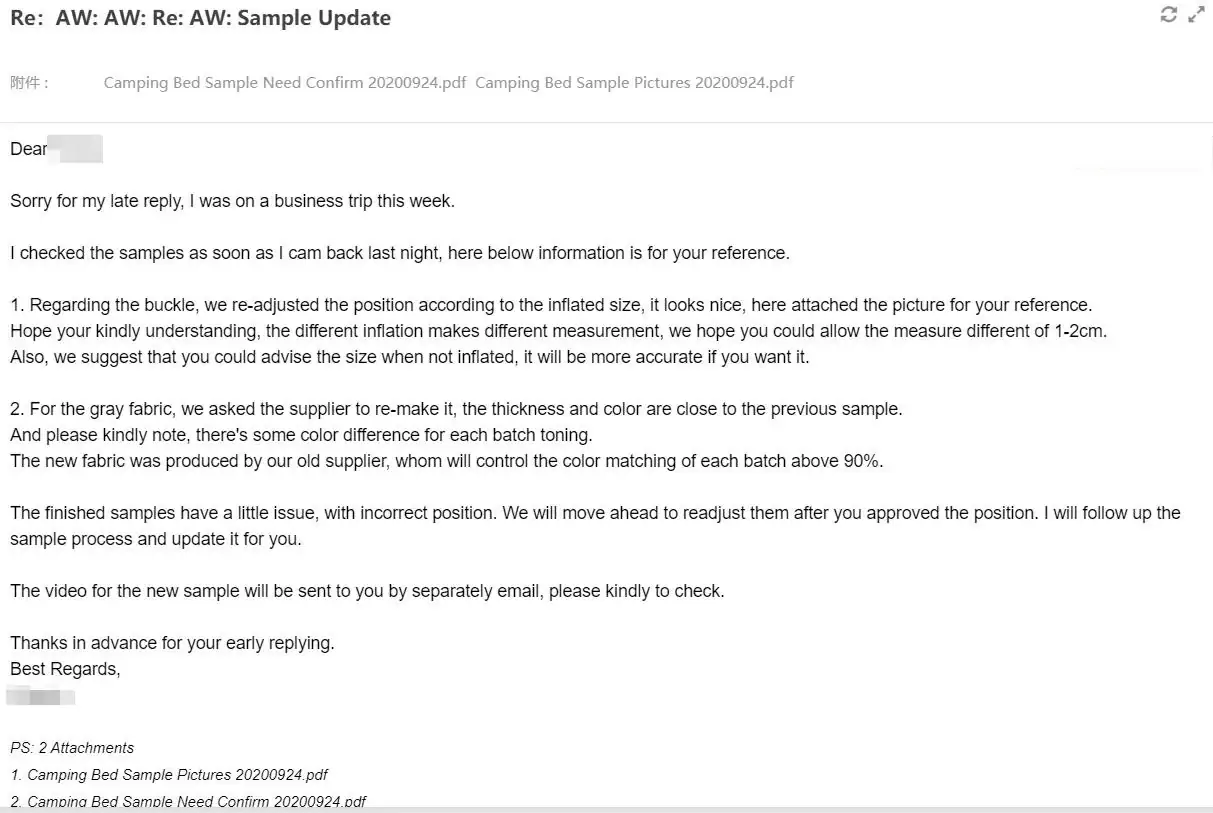 Our email to client regarding buckle adjustment.
Our client appreciated our findings and updated the buckle location in their design material accordingly.

We also suggested using shrinking foil in the packaging boxes, to which our client agreed.

Our finished samples were then delivered to examination institute for inspection. While the samples were awaiting tests, our client asked us about our quality control, to which we replied with our detailed process.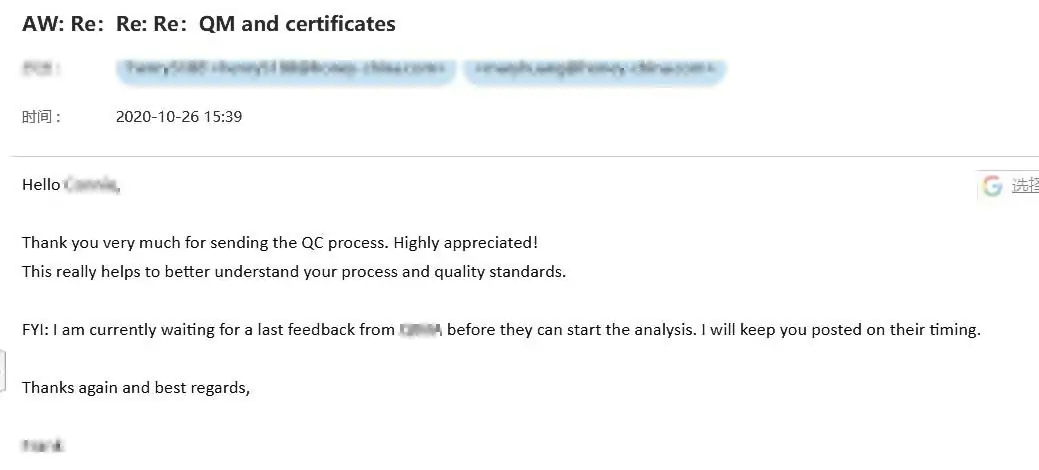 Our client's appreciation of our QC process.
As soon as our samples successfully passed the REACH and POP analyses, our client placed their initial order and paid the deposit.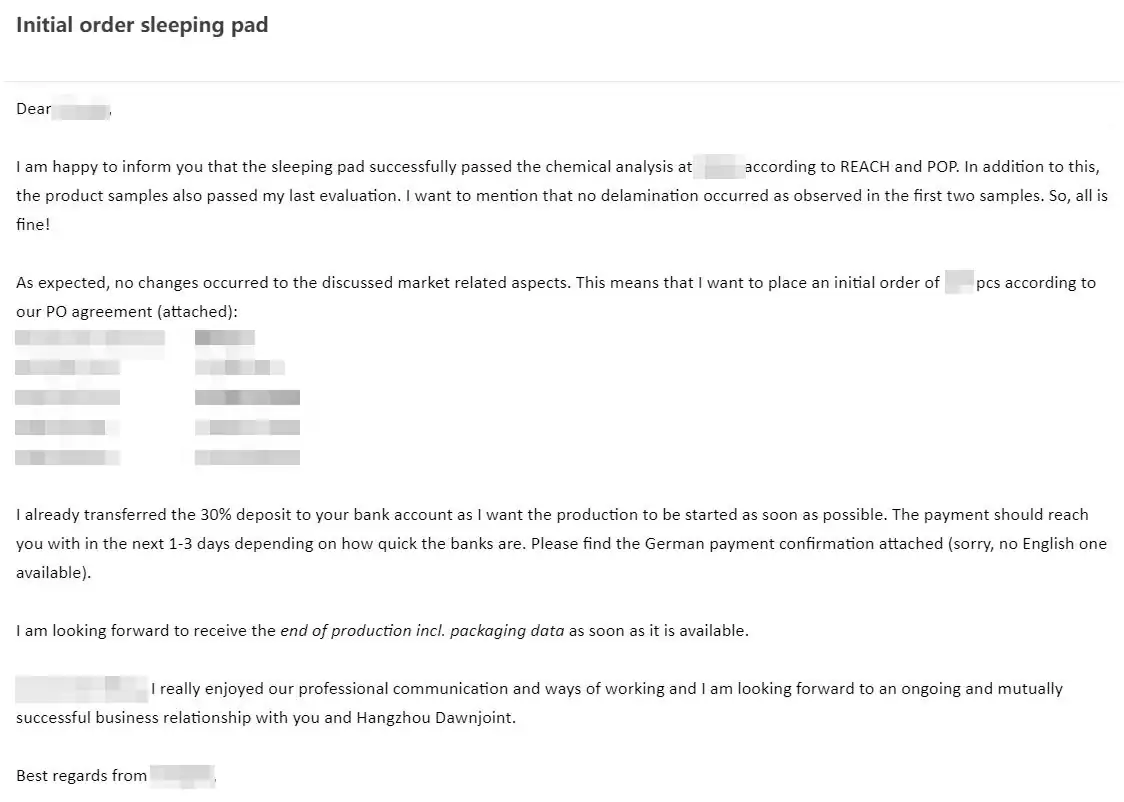 Second Challenge & Solution
During the mass production, another challenge occured. Our production department complained that the buckles had to be sewn to the webbing straps manually, which were costing too much production time while the result was not so perfect. Our R&D team came with the idea to open a new mold and use TPU as the material for the straps so that the buckles no longer had to be sewn manually.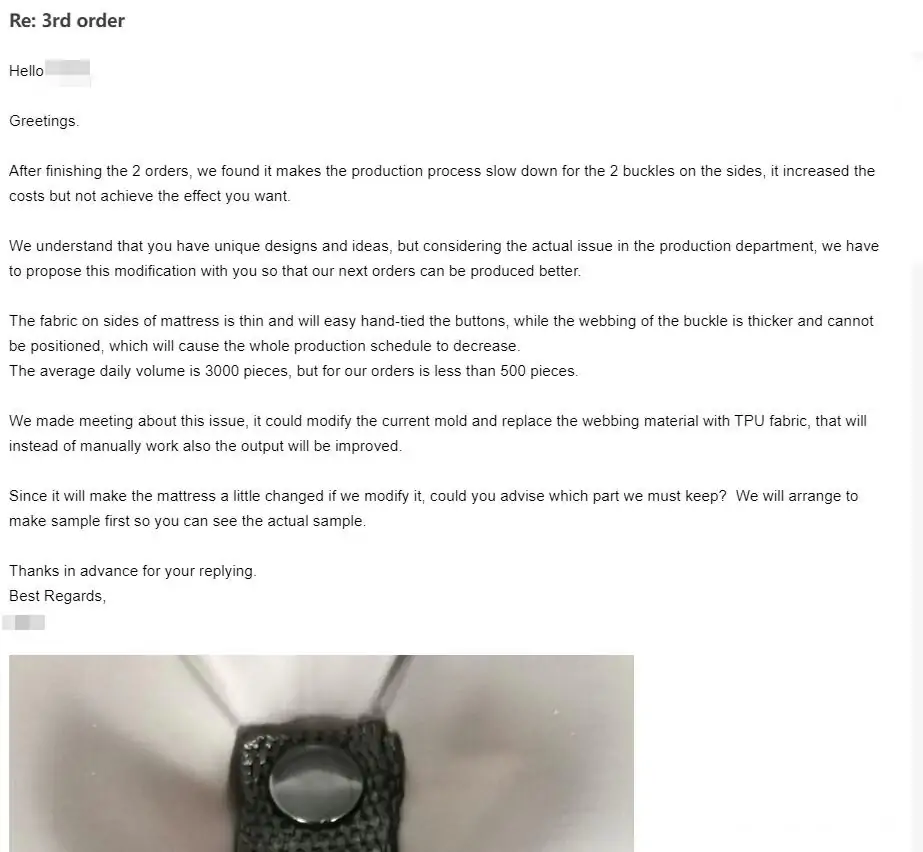 Our client had concerns with the hardness of TPU at first, but after they tested the samples, they are satisfied and approved the new design.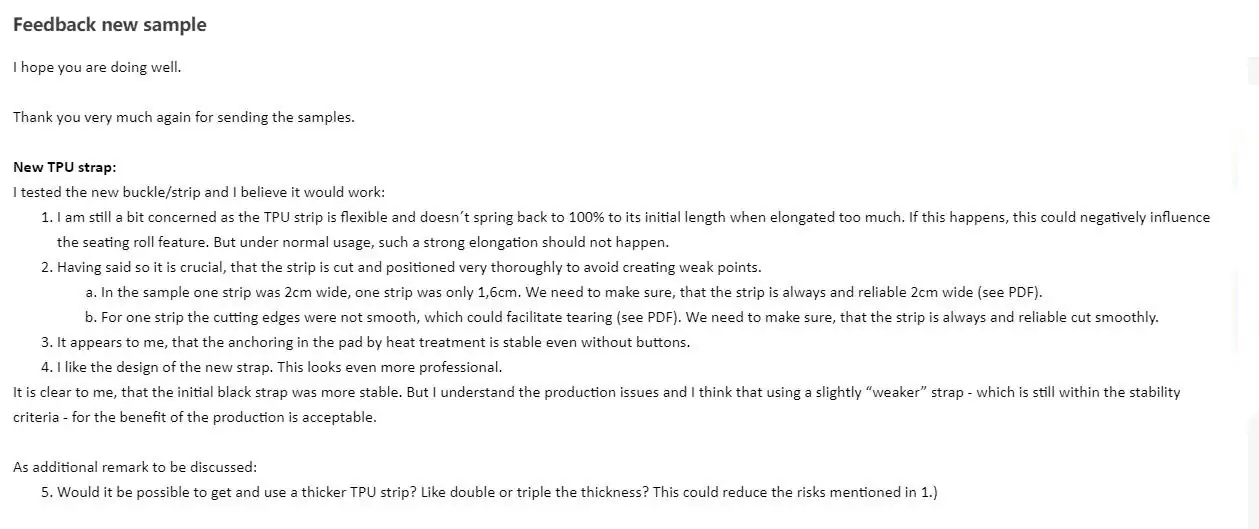 Result
They become our devoted client and order 6,000 to 8,000 inflatable sleeping mats every year. Their brand becomes popular on German Amazon, ranking top 30 in the European market. We highly appreciate the happy and friendly cooperation with our client and continuously improve our service for you.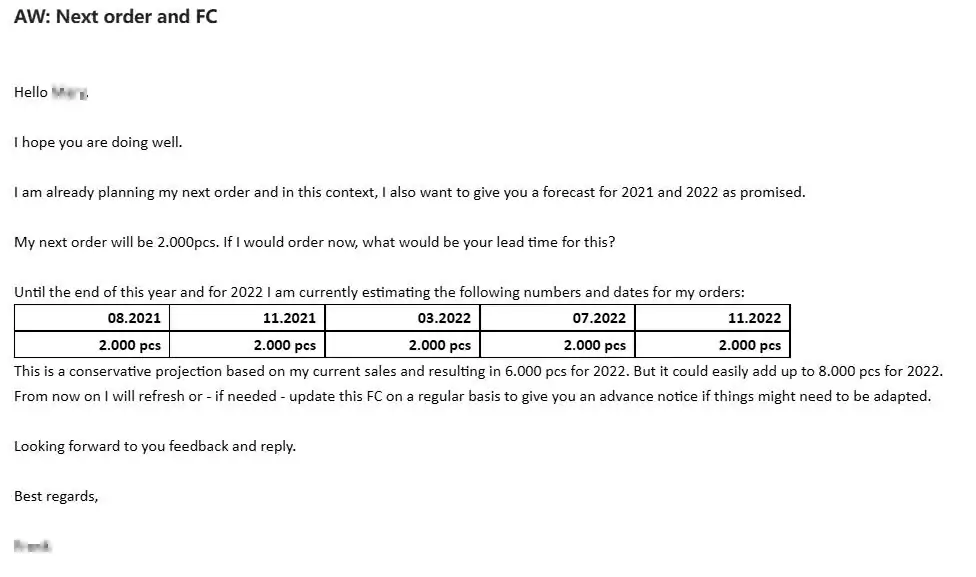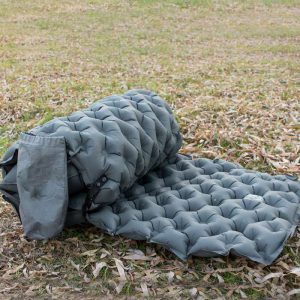 Client Feedback
"[Product quality is] Very good. Looking forward to the first customer feedback."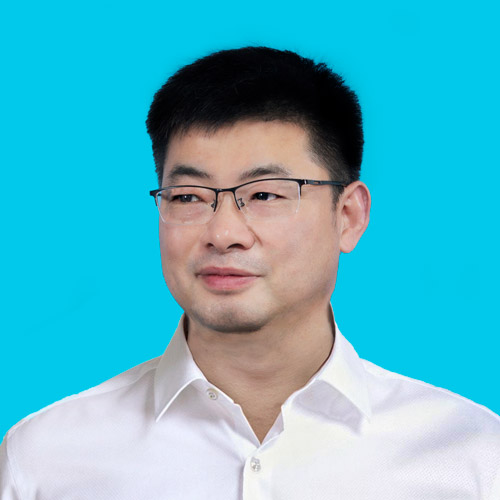 Hey, this is Henry Hu, General Manager of Hangzhou Dawnjoint B&T Co. Ltd and Hangzhou Farview Industry Co. Ltd, and owner of HoneyDryBag.
I have 19 years of experience in manufacturing, trading, and exporting. My company began producing waterproof bags, swim buoys, soft flasks, inflatable sleeping pads, camping tents, stand-up paddle boards, and collapsible rain barrels since 2010. I wish to work together with you and your brand in its growth.
I hope this article is helpful to you. If you like it and hope to receive more valuable posts in the future, please subscribe to our newsletter or send us an inquiry.
Feel free to contact us if you have any questions about this case or if you are interested in cooperating with us.